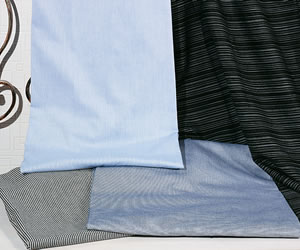 Denkateks has the capacity of producing 7.000.000mt/year. It produces mostly fabrics for pants and shirts for ready-made clothing sector but also for home textile, hotel & hospital textile and upholstery.
Denkateks can weave in the range of yarn number Ne130 to Ne6. In the production, a huge variety of yarn like cotton, cotton polyester, polyester, cotton lycra, pes lycra, acrylic polyester, viscose, wool, flax, bamboo, Tencel, streichgarn and silk is used and also dyed yarn for shirting. Besides other yarns with the features of being stainproof, wash-proof, nonflammable and extra touching can be used according to the customer demands. For special demands, it manages the searching and supplying process of some special yarn and fabrics like chiffon, mechanical strecth, rayon, melange yarn, mineral fibre, Lurex yarn etc.
With the manner of that improving technology creates value to the business, Denkateks has modernized its machinery with 2011 – 2013 model Picanol Optimax looms.